The unique character of Austin is defined in large part by the many small businesses that reside here. KMFA Classical 89.5 wants to celebrate these businesses, as well as unique online companies that give back to causes worth supporting. We've bundled these option up for you so you can do all your holiday shopping right here with KMFA's Favorite Things Gift Guide.
______________________________________________________________
TODAY'S FEATURED PRODUCT
The Eagle and the Song Bird by Sara Schneider
Still not done shopping?! We've got an easy fix for anyone on your list who likes a good book! Gift the Kindle version of The Eagle and the Song Bird by KMFA's own Sara Schneider.
It's the story of Emperor Maximilian I and his obsessive campaign, using the finest artists of his time, to manipulate future ages, and make sure history remembers him as a great leader. Schneider weaves history, art, music, and politics into an engrossing tale of seduction and betrayal. Perfect for curling up on the couch to read with a cup of hot cocoa during the holiday break.
If a good ol' fashioned paperback is more your speed, you can pre-order a copy now to be shipped in January.
Fair Market Gift Shops
Our favorite Fair Market Gift Shops have unique offerings from around the world sold by local businesses that make sure the artisans are paid a fair price for their work.
"Gadabout" is an old English word that roughly translates to "one who travels for pleasure." Gadabout Goods was founded by Bibi, a life long gadabout. Traveling and living abroad since childhood, she dreamed of creating a business with people and crafts around the world, and working to provide opportunities for those with few. Moving to Austin, she bought Sheila, the Truck, and started this website, the next step was joining the Caravan Co-Op at the Hill Country Galleria. When you shop Gadabout Goods, you are supporting a network of artists and entrepreneurs around the world living their dreams of artistic freedom and financial independence!
A couple of Bibi's favorites include:
Gadabout Goods' collection of Turkish Towels are hand woven by sisters living in central Turkey and are perfect at home and on your travels!
Gadabout Goods' distinctive Karen Hill Tribe Jewelry collection is handmade by silversmiths in Northern Thailand and prized for its shine and craftsmanship.
Packed with cards about their origin, Gadabout Goods' pieces make thoughtful gifts for any season.
Shop at The Caravan Co-Op at the Hill Country Galleria
Shop online at gadaboutgoods.com
______________________________________________________________
Ten Thousand Villages is more than a store. We're a global maker‑to‑market movement. We're a way for you to shop with intention for ethically-sourced wares — and to share in the joy of connecting with makers around the world. Discover organic clothing, jewelry, home decor, hand knotted rugs and specialty foods + beverages from over 45 countries.
Holiday Ornaments & Decor | The String Doll Gang | Handcrafted Jewely, Clothing, & Gifts
Shop in person at 4803 Burnet Road, Austin, TX 78756
Shop online at tenthousandvillages.com/austin
Handcrafted & Uniquely Austin Gift Picks
These are some of our favorites from local artisans as well as a few items we think every Austinite, or even those who love to visit, should have.
Whether you call yourself a book lover or a bibliophile, Malvern Books is the perfect local spot to find rare gems and local authors. If you are looking to give the gift of literature this holiday here are some of our favorite picks:
From left to right above:
For lovers of Christmas stories, New Vessel Press offers international collections just right for gifting. These beautiful hard-bound volumes showcase stories from a particular country or region by many well-known authors.
For those who are looking for a ghostly good Christmas, check out the Christmas Ghost Stories series from Biblioasis. Each small volume features one chilling story from authors like Dickens, Wharton, Blackwood, and Du Maurier, to name a few. Perfect as a stocking stuffer!
Here's a bundle of joy and reflection from Austin author Taisia Kitaiskaia! You have two volumes of the ever-enlightening Ask Baba Yaga—in which Kitaiskaia offers poetic advice through the wise and comforting voice of a figure from Slavic folklore; and two versions of Literary Witches: A Celebration of Magical Women Writers—one features beautiful illustrations, while the other has a 70-card deck and guidebook.
Malvern Books is currently open for curbside pick up and appointments only, Tuesday–Saturday To arrange curbside pick up, call 512-322-2097
To make an appointment, you can call or schedule your thirty-minute private shopping visit at malvernbooks.com/appointments
For more information, visit malvernbooks.com
______________________________________________________________
The Eagle and the Songbird by Sara Schneider
Yup, you read that correctly...KMFA host Sara Schneider has a new book out! The Eagle and the Songbird is now available on Kindle and available for pre-order in paperback (available January 19).
He has never feared death― not in battle, not in tournaments, not even the death he now faces. What he fears is oblivion and the fickle forgetfulness of history; or, worse, that his reign is remembered as a failure. Emperor Maximilian I launches an obsessive campaign, using the finest artists of his time, to manipulate future ages, and make certain history gets it right.

Set in Renaissance Germany, "The Eagle and the Songbird" transports readers to another time and place in the company of artist Albrecht Dürer and composer Ludwig Senfl. Author Sara Schneider weaves history, art, music, and politics into an engrossing tale of seduction and betrayal.
Get a copy for yourself or give it as a gift here.
______________________________________________________________
The Lisa Crowder Jewelry Collection is bold enough to be noticed, but timeless enough to be signature.
Inspired by the world around her, metalsmith Lisa Crowder approaches her designs in an architectural way building form on top of form to create beautiful, wearable structures.
Form, color, line and balance are the core elements of the Lisa Crowder jewelry line.
Through the combination of metals, pieces are carefully crafted into easily wearable three-dimensional works of art using mixed metals and enamel.
Shop in person Tuesday-Saturday at 916 Springdale Road, Austin, TX 78702
Shop anytime online at LisaCrowder.com
______________________________________________________________
100% Natural Soy Candles Hand-poured in Manor, Texas
The folks at Flame Candle Co. believe scents can truly transform any environment into a calming sanctuary, evoke memories from the past, create a cozy environment for a gathering of friends and family, or set the mood for a quiet night in. The only problem is most candles contain plastics, chemicals, and harsh products. That's when they decided to make candles with all the "good," without all the "bad." This passion led to researching fragrance and essential oils, and making candles in their kitchen in Manor, TX. Then, with the support of friends and family, they put themselves, and their candles, out into the world because they wanted to give everyone the opportunity to enjoy these candles. Now, you have the chance experience this joy, as well.
Two of our favorite holiday picks include:
Seasonal candles starting at $17.00 each.
Shop online at flamecandlecompanytx.com
______________________________________________________________
Modern Rocks Gallery in Austin presents a curated collection of fine art rock n roll photography and art, with signed limited edition, museum-quality prints from award winning photographers, artists and designers.
We love this signed limited edition print of Ann Richards and Dolly Parton taken by long time Austin City Limits photographer, Scott Newton.
Ann Richards and Dolly Parton by Scott Newton - Available from $100 and up.
Shop online at modernrocksgallery.com
______________________________________________________________
Dedicate a Chair to Someone in the Draylen Mason Music Studio
If you're looking for something really special to give this holiday consider dedicating a chair to someone in the new Draylen Mason Music Studio at KMFA.
The Draylen Mason Music Studio in KMFA's new facility, is named for Draylen Mason, a treasured member of our musical community who was tragically killed in the 2018 Austin package bombings when he was just 17. The 2,000 square foot studio has been expertly designed for the highest acoustic quality for enjoying live performances, whether in person, broadcast, or streamed.
Chair plaques will be affixed to the back of each chair and can be inscribed with your name, or any name of your choice. Plaques are approximately 1 x 3" and can contain up to two lines of 30 characters each, including punctuation and spaces.
Draylen Mason Music Studio Chair Dedications - Available from $1,500 and up.
Learn more about dedications and gifts at KMFA's new home here.
Purchases with a Purpose
If you want to spread twice the holiday cheer you might consider purchasing one of our picks from this section. You get a gift to give, and they give a gift to a worthy cause.
The Happy NPO is proud to say that 100% of their profits go to their non-profit. They directly manage and assist a home reconstruction program in Puerto Rico, a children's home in Peru, as well as partnering with organizations supporting migrants in Tijuana... plus, they do creative relief work when there are natural disasters (in the US and the Caribbean).
One of our faves is their "Be Kind" line of products:
FYI. Your shopping is kindness here as 100% of the profits support their non-profit work in Puerto Rico, Peru, Tijuana, and Ethiopia.
Be Kind Unisex Heavy Blend Sweatshirt - $38.00
Shop The Happy Givers NPO online at thehappygivers.com
______________________________________________________________
Livari Matte Ballet Flat - $60.00
A pair of black flats is definitely a closet staple for most women. $5 from every purchase is given to Still She Rises, Tulsa—a public defenders' office focused on representing mothers in the criminal justice system.
Shop online at oka-b.com
______________________________________________________________
Lola the Llama Doll - Reg $75.00 | Little $55.00
Hand knit with premium 100% cotton yarn and for every doll purchased ten meals go to children in need.
Shop online at cuddleandkind.com
______________________________________________________________
Jewel Garden - $38.00
For the person that has a green thumb (or aspires to) this hand-planted succulent garden makes a great gift. Plus, for every purchase made, a portion of the proceeds go to organizations that provide access to safe water, like water.org.
Shop online at lulasgarden.com
Austin Food & Drink Picks
Whether you want to ship a taste of Austin to friends and family living elsewhere or pick up some of these Austin-made tasty treats to serve at home, here are our favorite food picks!
Born and raised in downtown Austin, Texas in 1937, family owned, Twin Liquors began as one small store and has emerged into a "home grown," successful Austin company that has a unique and well-respected reputation throughout the United States for having impeccable team members, outstanding customer service, conveniently located stores, extensive selections of fine wines and premium spirits from around the world, and substantial community involvement.
Their "Cocktail Combo Packs" make entertaining easy, and can also be a perfect gift! Perhaps our favorite combo is the Aperol Spritz combo pack. Originating in Venice, the popular aperitif can often be found atop a table in a café or restaurant in northern Italy. This vibrant orange cocktail is made with Prosecco, soda water, and Aperol - which is made of gentian, rhubarb, and cinchona, among other ingredients.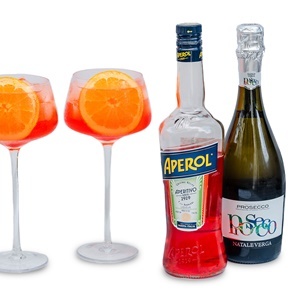 Aperol Spritz Cocktail Combo Pack - $29.99
Shop one of their 90+ locations across Texas or visit them online at TwinLiquors.com
______________________________________________________________
Krystal Craig, co-owner of Intero Restaurant in East Austin, has put together a plethora of delectable hand crafted chocoates for the holiday. Her chocolates have graced the pillows of The Four Seasons and other boutique hotels in Austin, and have been a favorite for shoppers at the Armadillo Christmas Bazaar for years.
Individual holiday treats and gift boxes are available now online or at Intero. And a quick suggestion from us, you'll want to get some for yourself as well as some for the chocolate lovers on your Christmas list!
Gift sets available from $10 and up.
Shop online or visit Intero at 2612 E Cesar Chavez St Suite 105, Austin, TX 78702
______________________________________________________________
Mozart's Coffee Roasters is more than just a groovy coffee shop on Lake Austin, they have everything from campfire mugs to masks in addition to locally roasted coffee blends and a full service bakery!
KMFA Signature Holiday Blends - $18.99 each
Now you can drink great coffee and support KMFA Classical 89.5 at the same time! Choose from the Classical Christmas Medium Roast or the more robust Sleigh Ride Dark Viennese Roast - the first ever interactive roasted bean multi-sensory coffee experience! Each bag of Sleigh Ride includes a label you can scan to listen to "Sleigh Ride" by Wolfgang Amadeus Mozart!
Cocoa BOMB Blossoms - Starting at $4.95 each
The only of its kind made in Austin, Mozart's homemade blossom marshmallows are placed inside hand crafted Ecuadorian dark chocolate shells and sprinkled with Colombian cocoa powder. Just drop, pour, and enjoy! Sold individually, 4-packs, and with a Campfire Mug.
Curated Specialty Bundles & Boxes - Gift Sets from $30.00
Give someone a pre-selected or customizable gift box with locally roasted coffee, gift items, and treats from Mozart's! Assorted themes and price points available online.
Shop in person at 3825 Lake Austin Boulevard, Austin, TX 78703
Shop online at mozartscoffee.com
______________________________________________________________
Milam & Greene was created by founder Marsha Milam, whiskey expert and Master Blender Heather Greene, Kentucky veteran Master Distiller Marlene Holmes and Chief Brewer Jordan Osborne. Their charming distillery sits in the lush, Texas Hill Country where the hot summers, mild winters, and wild temperature variances add spark and personality to their spirit. To achieve excellence, they bring in grains, yeast, barrels and experience from all across America to create our award-winning whiskies.
These exquisite spirits make a great gift for the whiskey connoisseur on your list. Find them locally at Twin Liquors, The Austin Shaker, and other fine liquor stores. You can also set up curbside pickup at their Blanco, Texas distillery, or order online. They are currently offering free delivery on orders of $75.00 or more.
HINT: Follow Milam & Greene on Facebook and Instagram to see their #twelvedaysofcocktails recipes to warm up your Christmas!
Shop online at milamandgreenewhiskey.com.
______________________________________________________________
MONTHLY ICE CREAM SUBSCRIPTIONS!
Founder of Amy's Ice Creams, Amy Simmons says ice cream is so much more than a cold treat, it should be at the epicenter of life events!
This one is perfect for Austinites who love to scream for ice cream! Give the gift that keeps on giving with a Monthly Membership to Amy's Ice Creams. Members enjoy delicious ice creams, favorites and limited flavors, pre-recorded educational content, handcrafted foodie treats, and more which can be picked up or delivered right to your door depending on which level you select. It's the ultimate ice cream lover's gift from a true Austin original!
Available online for $35.00-$75.00 per month
______________________________________________________________
Homegrown in Austin, TX
When you want to spice up your holiday gift giving with something homegrown right here in Austin, Yellowbird Sauce variety packs are the perfect pick! They started growing habaneros in their backyard and turning them into the most delicious spicy condiments they couldn't get enough of. Now, you can can give them to the hot sauce lover on your Christmas list. They are fiery dream products, full of flavor, and support small USA organic farmers.
Build your own gift box online from $20.00 + shipping & handling
______________________________________________________________
LAMMES CANDIES LONGHORNS
Lammes Candies, celebrating over 130 years of Legendary Texan confections, was founded by William Wirt Lamme in 1878. Originally called the Red Front Candy Factory, the store was located in the 800 block of Congress Avenue - the main business street in Austin, Texas.
Their signature Longhorns chocolates are made with Big Texas-size pecans clustered with secret recipe caramel, and are smothered in premium chocolate to create the cornerstone of Lammes chocolate confections. Longhorns are lovingly handcrafted in small batches at our Austin, Texas candy kitchen.
Shop five stores throughout the Austin area or shop online and take advantage of their Worldwide shipping.
Gift boxes available online starting at $16.45 + shipping & handling
______________________________________________________________
Is your Favorite Thing missing? Email us and let us know and we might add it to the list!
Keep checking back as we'll be adding more of our Favorite Things throughout the holiday shopping season!