Draylen Mason Music Studio
THE DRAYLEN MASON MUSIC STUDIO
The 135-seat music studio is the centerpiece of our new facility, where audiences experience live broadcasts, concerts, and community and educational programming. With a generous gift from Lynne Dobson and Greg Wooldridge, the space is named after Draylen Mason, the talented seventeen-year-old bassist who was a victim of the Austin package bombings in March 2018.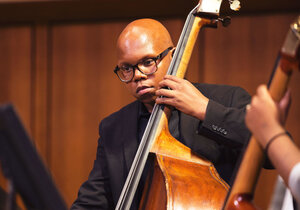 Draylen Mason
"Draylen's dream to inspire people through music is essential," Ann Hume Wilson, KMFA's president and general manager, said. "KMFA watched him grow musically, and we all recognized his shining potential. We are so grateful to his family and Lynne and Greg for allowing us to create this living legacy to Draylen for the entire community."
Draylen performed with Austin Soundwaves, Austin Youth Orchestra, Austin Chamber Music Center, the UT String Project and at the Interlochen Center for the Arts. He had been admitted to the music schools at the University of Texas at Austin, University of North Texas and the Oberlin Conservatory of Music to study bass performance.
A memorial tablet on the Walk of Heroes at Draylen's school, East Austin Prep, shares his statement: "The greatest gift I can ever offer is to rekindle someone's passion by sharing my talents. I want to share my gift and inspire others to discover, develop and use their own."
This beautiful space is available for rehearsal and recording as well as public and private events and performances.
Contact Stacey Hoyt for more information and rental rates.
Draylen Mason Music Studio Photos
Live from the Draylen Mason Performance Photos
Pianist Anton Nel talks about the Draylen Mason Music Studio
Soriya Estes talks about Hearing Loop technology in the Draylen Mason Music Studio